A casual stroll through the up and coming vineyards of Northern Virginia or the famous wineries of Mendoza, Argentina calls to mind a sweet sort of nostalgia for simpler time. But as liquor stores pack their shelves with mass produced bottles, something has to bridge the gap between family owned vineyard and transnational corporation.
For some, Hector Samkow's Innovative Vinology Information System (IVIS) bridges that gap. Samkow, whose experience in IT solutions and supply chain management come from years in the trucking business, has developed a tool that allows vineyard and winery owners to apply the tactics of shipping efficiency to the wine business.
[1]
IVIS software provides the tools specifically designed for winegrowers and winemakers to manage workflow, inventory, sales, equipment, shipping, quality control and more using a flexible array of technology. The menu below appears on a pocket PC that includes built in barcode reader and wifi.
[2]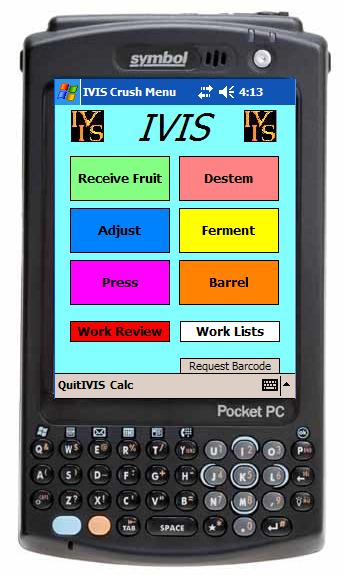 Although software solutions for winemaking may seem counter-intuitive, it turns out vineyards are just like any other production system, equally in need of careful tracking to improve manufacturing efficiency and just maybe approach a lean manufacturing model. IVIS isn't the only IT company targeting wine makers, a similar company, Innovative Wine Solutions (IWS) offers a set of software that tracks the stages of production in three different systems: FERMENT, ACID, and FILTER, whose self-explanatory names describe which part of the process they track. [3] Other software companies, like ShipCompliant help producers manage compliance with state and federal production and distribution laws. [4]
[1] http://oregonwinepress.com/article?articleTitle=going%252Bon%252Bthe%252Brecord--1261161852--52
[2] http://www.ivissoftware.com/features/index.htm
[3] http://www.winerysolutions.com/iws.html
[4] http://www.winesandvines.com/buyersguide/?pLev=Category&pId=101