This week we are going to discuss something about supply chain network. Logistic, which is defined as "the management of the flow of resources between the point of origin and the
point of consumption in order to meet some requirements", can be consider the most critical component within supply chain network. As China has one of the largest active E-commerce market around the world, Millions of goods will be transported thousands of miles from one place to another place. There must be a very highly effective and efficient supply chain network to back up such a huge daily transaction. Therefore I did some research on the current development of Chinese express delivery industry and try to figure out how comprehensive and advanced its logistic network is.
Here I take SF-Express as the example. SF-Expreee is the leading company in Chinese delivery industry which have been "providing domestic and international express delivery solutions to a wide array of customers", as well as covering business including supply chain research and development, warehousing service, logistics, and delivery infrastructure network development. Currently, SF-Express has set up over 6000 service centers covering 31 major provinces, more then 300 large and medium-sized cities and over 1900 country-level cities or districts. Also, SF-Express is expanding its delivery solution service to other major countries in Aisa-Pacific area such as US, Japan, and Singapore.
With SF-Express's extensive delivery resources and network (The first express company in China own an Airline company), SF-Express has developed an advanced logistic network integrating warehousing, sorting and delivery services.
At present, SF-Express possesses 26 operating warehouses in major transportation regions nationwide.
Such an extensive warehouse network facilitate the customers' demand in optimizating and relocating goods by having multiple branch warehouse. Besides, with implementation of global leading Warehouse Management System (WMS) and RF technology, it not only enable customer manage stocks in all warehouse anytime anywhere, but also can sort the goods with high efficiency in any circumstances, as well as ensure accurate and timely warehousing and dispatch services. Modern warehousing services are also provided including packaging, quality control, label changing, invoice printing and so on.
As for distribution, SF-Express is able to provide efficent, timely, high-quality and cost-effective distribution services supported by its over 4300 branch offices and huge delivery fleet, enableing services such as not only daily express delivery, but also large and frequent scale distribution such as Retail store direct-delivery, Outlet stock replenishment circulation within the city.
To connect every component of logistic seamlessly, and perform real-time tracking and monitoring information flow of the whole logistic process. a single integrated system has been deployed that includes the most advanced inventory management system, ERP system and e-commerce platforms such as the biggest online-shopping platformTaobao.
With such advanced system and comprehensice network,
SF-Express has innovated its way of business in logistics, which offer customized supply chain solutions for diverse demand of different industries. One good example is the one-stop supply chain solution for the Mobile Phone Industry.
Case 1: Distribution f
rom Distribution Center to Physical Store
Goods with be delivery from Central Distribution Center by air or track to the warehouse in Natoin-wide city network. After furthering stock and allocation management process, products will be delivered to the stores and supermarkets with Intra-city delivery. Information flow will be recorded in each step to the system for further usage such as goods tracking and data mining
Case 2: Retailer Logistics f
rom Distribution Center to Customers
With integraed logistics, information flow and physical flow services, goods will be taken care of from online ordering, to warehousing management, to accurate sorting and packaging, to secure delivery and after-sales customer-services like product return.
Case 3:
Reverse Logistic f
rom End-Cosomers to Distribution Center
This reverse logistic deals with situations such as product reclaim/return or tranfering orders, by collectings orders from end customers to the Central Distribution Center Warehouse or Maintenance Center. SF Express's extensive warehousing service can handle returning or replacement of goods and allocation order processing, and provde transparent and flexible management of customers' orders.
Based on company's extensive infrastructure and advanced system development, SF-Express is continually improving its logistic procedures and management effectiveness. More delivery services have been launched such as same-day intra-provincial delivery, and highly secure delivery.
Actually, there are dozens of simiar express delivery companies developing very quickly within China. In order to deal with increasing demand in E-commerce and higher requirements in the speed and quality of delivery services, a higher resources-integrated logistics network called China Smart Logistic Network (CSN) is launched by Alibaba Group jointly with eight other delivery companies, aiming at building a logistic platform to improve logistic efficiency, accelerate e-commerce deliverires in China, and discoverd opportunities from data-driven business, by integrating and optimizing every possible resource in supply chain including warehouses, fleets, e-commerce platforms and systems, and developing common delivery management system, automated inventory system as well as making industry standard for cooperated companies to follow.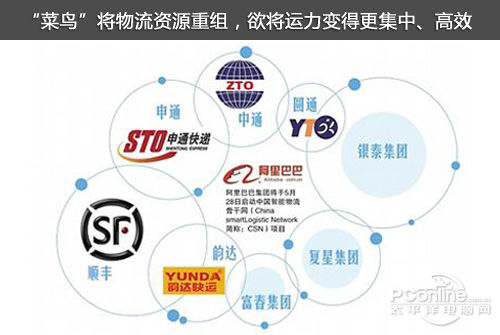 I am quite excited about the idea of establishing China Smart Logistic Network, but also curious about what new opportunties for new business will be created or what technology will be derived from it after China Smart Logistic Network is finally implemented? Welcome anyone's idea and let's discuss it!
Source:
1.
http://en.wikipedia.org/wiki/Logistics
2. http://www.sf-express.com/cn/en/about_sf/overview.html
3. http://www.sf-express.com/cn/en/product_service/Industry_Solution/Mobile_Phone_Industry.html
4. http://www.sf-express.com/cn/en/product_service/product_intro/warehousing_distribution.html
5. http://news.pconline.com.cn/332/3327007_all.html